Dear Friend,

This is a special edition of eGraceNotes, reminding you that the next in our

Stir the Pot

series is coming up this Sunday at 4:30 pm at Grace.

The first in this series, on Religion and Politics, was quite successful, with 40 people attending the panel discussion and then staying for animated discussion which continued over a delicious meal.

Read on for details of this Sunday's event.

Learn more and see what else is happening at Grace at on the

Grace Church Calendar

.
For the Bible Tells Me So

To Be Shown at Grace

For the Bible Tells Me So, a film discussing what the Bible really says about homosexuality, will be shown at Grace Church on Sunday, November 23, at 4:30 pm. The film will be followed by a panel discussion and a light supper of soup and home made bread.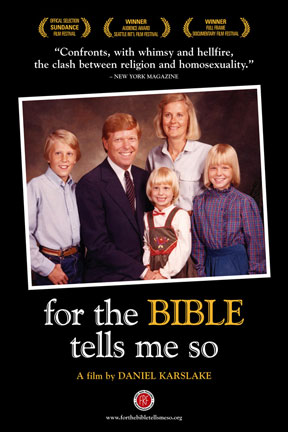 For the Bible Tells Me So

traces the lives of several gay and lesbian persons, giving their home backgrounds, the issues they faced in accepting and being accepted as a gay/lesbian person by themselves, their family, their church, and others.

The comments of many leading theologians and ministers on both sides of the debate are informative and enlightening in assisting and promoting understanding of the various ways people come to their beliefs about this subject.

All are encouraged to see the effective and provocative film. Child care will be provided. There is no charge for the event although donations in support of the series will be accepted.

We call this series of films and discussions

Stir the Pot

, because it seeks to bring together people on all sides of various serious issues that face us. Future events concern the rise of Islam, the environment, slavery, and aging.