Farewell Reception for Vicar Ernestein Tonight

A reception honoring the Reverent Ernestein Flemister and celebrating her 25 months with us will be held tonight, Thursday, from 5:30 pm to 8 pm.

Join us to wish Vicar Ernestein well!

Friday, July 31, is her last day as Vicar of Grace Church.

Baptisms at Grace Feature Total Immersion--in Triplicate
Your editor missed it, but by all accounts, the baptisms July 17th were quite an event, as you can tell from the pictures
here
.
Mary McLain reports, "Rahsaan Dehjajuan Valentine, Raekwon Dijajuan Valentine, Charmundo Artez Hutchinson, Jr., Charmiah Artea Hutchinson, Charnae Armani Hutchinson, and Dujuan Lee Walker were all baptized by full immersion, three times, in the name of the Father, in the name of the Son and in the name of the Holy Ghost! All but the outraged baby bore the cold water with courage."
"The children were sponsored by David Mukasa and Roger Perna."

"It was a glorious event celebrated in song by the Sisters of Muse choir. Each child was presented with a special candle lit from the Paschal candle by Vicar Flemister. Roger Perna presented each child with a special New Testament book."

Wanda Miller reports, "The Muse singers Bennyce Hamilton brought sang beautifully. Their first song was from a poem by Kahlil Gibran which included the words, 'Your children are not your children.' Poignant. This was not an 'episcopal' service, but the children were baptized and all's well that ends well. Everyone seemed happy."
Notes on Sunday's Readings



See the readings for Sunday here.


In Sunday's reading from the letter to the church in Ephesus, one of the Pauline tradition's strongest themes is introduced: Although we have differing God-given gifts, we are in unity with God and with all people through our baptism. Baptism has joined us together into one life as the body of Christ--the same body which we receive in Holy Communion.

A continuing theme throughout the Old Testament is God's provision of food for the people, a provision that is a sign of God's salvation. The Old Testament reading is the account of God feeding the people during the Exodus wanderings with manna--bread from heaven.



In the Gospel, we hear the response of the crowd after Jesus had fed the 5,000 people with five loaves and two fish, followed by the first part of John's discourse on Jesus as the bread of life. Starting with bread as a material object and earthly food, Jesus then leads his hearers to an understanding of communion or fellowship with him as food for our spiritual nature. It is that spiritual nourishment which gives eternal life.




The Christian Gospel sees our lives as being shot through with signs of the fuller life that is ours in Christ. Ours is not a religion of the spirit alone, nor is it solely a means of dealing with material life in this world. As bread and wine are revealed in the liturgy to be instruments of God's presence in us, so all of life is revealed as the sacrament of God in the world; we remember that we are (in the words of St. Augustine) " ... the means of grace and vehicles of the eternal love."
This Sunday: Ask Everything You'll Ever Want to Know About Common Ministry

"Common Ministry" is a way for a church to operate where the duties usually carried out by the clergy (preaching, distributing communion, pastoral care) are taken on by members of the congregation. This is an idea supported in the Diocese by Bishop Breidenthal. The Common Ministry Committee is charged with finding out everything Grace needs to know in order to decide whether or not to be a Common Ministry church.

At coffee hour after Sunday's service, the Common Ministry Committee wants to hear all your questions about Common Ministry, so they can find the answers for you. Refreshments and child care will be provided.

Come loaded with questions!
Bishop Breidenthal Calls Common Ministry Meeting September 19




In a recent letter to interested parties, Bishop Breidenthal says "...our diocese is embarked on an exploration of what Common Ministry means and might mean for Southern Ohio....The first and most pressing phase of this exploration has to do with congregational life: how should clergy be trained and deployed? What role might lay leadership teams play in pastoral care and oversight of local congregations ..."

He continues "These are long term questions, but they are also present and urgent challenges. I have some concrete answers to these questions that I would like to share but I also want to hear from clergy and lay people in key leadership positions who have wisdom to offer, unique perspectives to share and an immediate stake in how we answer these questions."

The meeting will be held on Saturday, September 19 at Procter Conference Center from 10 am to 3 pm. The more people from Grace who can attend, the better prepared we will be to make a decision about Common Ministry for Grace.

Let one of the members of the Common Ministry team (Carol Lyon, Ken Lyon, Justine Matovu, Wanda Miller, Roger and Belinda Perna) know your interest and we will register you. There is no cost to attend.



For more information on Common Ministry ...



Keep in Your Prayers ...
Trevor VanWagenen, Anna Hamilton, Ed Frye, Jo Carroll, Karen VanWagenen, Grace Staples, Elaine Hughes, Maureen Back, Eloise Pinto, Ruth Bertram, Robert Flemister, Mrs. Matthews, Judy Handy, Shelly Martin, Barbara Todd, Kim Martin, Robb Martin, Florence and Bob Poyer, Dean Bryeans, Mary Hall, Chris, Irene Bryeans, Joshua, Caleb, Anne and Darryl Handy, Marcus Flemister, Kim Herrmann, Al Berghausen, Teri, Mary Lou Bellows, Jackie Lewis.

Please let us know if you need pastoral care or know of someone who does. This includes information about illness, hospital stays, requests for visits, communion, and prayers for special concerns. Please help us to serve you.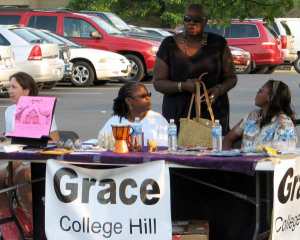 Spread the Good News of Grace at the College Hill Block Party

Grace Church needs volunteers for the Grace Church Information table at the College Hill Block Party Tuesday, August 4, and Friday, August 7, both from 5 to 9 pm.

All that's required is to talk to interested people and hand out our information. See more pictures of previous table-hosters here.

If you are able to assist, please see Judy Handy.
Check out the College Hill Block Party Next Week



Tuesday, August 4 is National Night Out in College Hill. Join your neighbors as part of this national celebration of community life. This year's event will be held at the College Hill Presbyterian Church parking lot and will include live entertainment, a community cookout and information on all our community groups.



Wednesday, August 5 is Jazz & More

, hosted by P. Anne Everson-Price and featuring the Young Jazz Messengers. We will be cooking out for dinner and dancing the night away with jazz music.



Thursday, August 6 is Talent & Hoops

, hosted by Richard Schroer of the College Hill Recreation Center and Ron Whitt of Teen Impact. The evening will include a 3-on-3 basketball tournament, corn-hole, and, for the first time ever, a talent show. The talent show is open to anyone, so start practicing those routines and get ready to show off your skills! Montgomery Community Church will provide the meal for the evening.



Friday, August 7 is Praise and Worship Night

. We encourage churches throughout the College Hill area to attend this evening in particular, as the night will be filled with worship by Cornerstone Community Church, lead by David Minor. There will be sloppy joes, chips, and freezer pops for dinner, (yum!) and games for the kids, including four square and corn-hole. Galen-Bailey, Caricature Artist, will be joining us, so you will once again have the chance to get your picture drawn in a fun way.



Tuesday through Friday is the As I See It project.

Youth from Winton Hills Elementary and Aiken High School will tell their stories by documenting their lives on camera. The contestants' work will be judged in the Presbyterian Church Atrium and a winner will be chosen. The work will be available for purchase, with half of the proceeds going towards continued funding of the project, and the other half to the winner for future endeavors.



Sunday is a Community Worship Service.

At 10 am in the Presbyterian Church parking lot, we will praise God for the fun week we had together. Then, at noon, we'll enjoy a concert by Aretha Chapman, Kaleidoscope Worship Leader, and a picnic lunch.

Coming Events

Say farewell to Vicar Ernestein
tonight
, Thursday, July 30, from 5:30 to 8:00 pm. Please invite others who do not regularly attend Grace Church but who might want to say good by to Ernestein at the reception.
On Sunday, August 2, Ken Lyon will make a presentation on Common Ministry. Please plan to attend both the service and the discussion following the service. Light lunch will be served.
Officiants in August:
Aug 2 Fr. John Bower
Aug 9 Deacon Gary Givler
Aug 16 Fr. John Bower
Aug 23 Fr. Ray Betts
Aug 30 Lay group, leading Morning Prayer
See the
Grace Calendar Page
for the most up-to-date listing of events at Grace and of possible interest to Grace people. Let us know at
webmaster@gracecollegehill.org
if we've missed anything.
Bishop Breidenthal Reports on General Convention
Dear sisters and brothers,

A week has elapsed since the close of General Convention. As the dust settles, I'd like to make a few comments that may clarify our way forward as we seek to digest and act on the decisions that were made there.

This General Convention passed many wonderful resolutions having to do with mission to the poor, to children, and to young adults, but the resolutions that have gained media attention are the ones dealing with our gay and lesbian brothers and sisters within the church. What about those resolutions? What really happened in Anaheim?
First of all, we strongly affirmed our desire to be part of the Anglican Communion. But we also affirmed that same-sex unions can be holy, especially when they are entered into by faithful followers of Jesus Christ.
Some would say that these two affirmations stand in contradiction to one another. Perhaps they do, though I'd say both are true. It comes down to this: the Episcopal Church is insisting that, in our own context, in the actual, ordinary, day-to-day, Sunday-to-Sunday experience of our local congregations, the reality of faithful same-sex unions cannot be ignored any longer. At the same time, we do not deny that the experience of other parts of the Anglican Communion may be different from ours, nor are we insensitive to the fact that many provinces of the Communion do not stand where we are on this question.
What about relations within the Episcopal Church? Where do we stand with one another after Anaheim? We certainly cannot claim to be of one mind regarding the blessing of same-sex unions. But we have agreed that our differences will not destroy our communion with one another. Each diocese is free to find its own way.
This means that we are still dealing with a great deal of ambiguity when it comes down to same-sex unions. Such unions have not been officially condoned. Yet the bishops have agreed not to censure those who allow them, and the General Convention has requested that individual dioceses with experience in this area provide the next General Convention, three years from now, with the results of their experimentation with liturgies for the blessing of such unions.
Understandably, some are bewildered by the wide range of interpretations that have been offered. For me, what we said in Anaheim boils down to this: (1) There is consensus that blessing the same-sex unions of fellows Christians can no longer be ruled out, if only for pastoral reasons; (2) there is not consensus that such unions can be holy, but there is a significant majority of our leadership, both lay and ordained, who are convinced they can.
What does this mean for the Diocese of Southern Ohio? This will have to be worked out the way we work everything out--with a lot of conversation, study and prayer. General Convention has obligated us to take seriously the pastoral needs of our gay and lesbian brothers and sisters. At the same time, it has left the interpretation of this obligation up to each diocese, since each diocese faces its own unique challenges in this, as in every area. How we engage this work of interpretation and discernment will require a great deal of consultation, not least with our own lesbian and gay community. I do not yet know what form this consultation will take, since I have not yet had the opportunity to discuss this with you. I welcome your suggestions by email regarding a process we might follow. (I can be reached at
tbreidenthal@diosohio.org
.)
The main thing is that we must proceed in a spirit of mutual respect and care. This is the spirit that animated our deliberations in Anaheim, and I expect no less from all of us in Southern Ohio.
I can't close without telling you that Margaret and I had the joyous occasion today to meet up with the Diocese of Ohio bicyclists who have been cycling from Anaheim to the Church Center in New York City to raise money for Episcopal Relief and Development's mosquito net campaign. We were driving back from the celebration of Judi Wiley's new ministry at St. Mary's, Hillsboro, when I got a call from Bishop Hollingsworth saying they'd just entered Ohio and would be changing shifts in Newtown, just east of Cincinnati, at about 5:30 p.m. We notched down from Route 50 to Route 32, and spotted them in the parking area of a Mobil station, full of stories about surviving the desert in Nevada and making it up and over the Rockies. Check out Bishop Hollingsworth's blog at
http://ohiobishop.blogspot.com/
. Keep Bishop Hollingsworth and his brave band in your prayers as they pass through Ohio tonight (and go to the
ERD site
to make your on-line contribution to support their cause). They will be met by the Presiding Bishop when they arrive at 815 Second Avenue in Manhattan.
It is good to be back.

Grace and peace,

+ Tom
Bishop, Diocese of Southern Ohio
7/26/2009
It's Easy to Keep in Touch with What's Happening in the Diocese
The Diocese has its own eNewsletter called
e-Connections
that provices regular updates on Diocesan matters. To subscribe, click
here
.
You can catch up with what's happening at the
Diocesan web site
.