Grace Prepares for a Decision on Common Ministry

As announced in the last

eGraceNote

s issue, the congregation will be voting on the last Sunday in January on whether or not to accept the Bishop's invitation to participate in a Diocesan program to develop a strategy and practice for Common Ministry in the Diocese. To help prepare for that decision, the Common Ministry Committee has scheduled after-church sessions for the remainder of January.

In preparation for these sessions, the Committee handed out a one-page sheet giving answers to a series of questions about Common Ministry that were posed by the congregation last August. You can read that document here.

On Sunday, January 10, Roger Perna will lead a Bible study giving some biblical background on Common Ministry. Refreshments will be provided.

On Sunday, January 17, Wanda Miller will present the information about the Common Ministry process that the Diocese has invited us to particpate in. Coffee hour will be provided by the Flag Team.

On Sunday, January 24, the congregation will vote. Refreshments will be provided.

You can read a series of documents about Common Ministry on the Grace Church online file cabinet here.
Christmas at Grace
Grace Church was especially beautiful this year, thanks to those who contributed flowers and to members of the Altar and Flower Guilds who decorated the church.
We celebrated Jesus' birth with an inspiring candlelit Choral Eucharist on Christmas Eve, with a quiet Eucharist on Christmas Day, with Lessons and Carols (10 of them!) on the Sunday after Christmas, and again with Eucharist last Sunday--the second Sunday after Christmas.
You can see more pictures of the church and of the Christmas services
here
.
Thanks to Walter Handy and Ken Lyon for the photos.
Healing Service Coming Wednesday

This month's Celebration of Wholeness and Healing is Wednesday, January 13. Drumming starts at 6:30 pm, the service starts at 7 pm.

Of last month's service, Hawley Todd reported: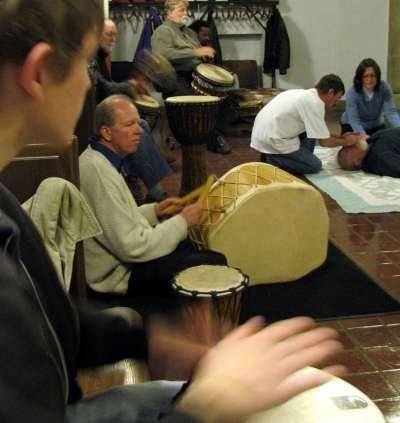 The service was much like our Sunday mornings in the fact that people kept coming well into the service.

The "neatest" group was the last to arrive. One of the drummers had seen these people at the Northside market that evening and told them to come. Sharing stories and word of mouth is how our programs will grow and prosper.

The weather prevented about ten or more people who told me they couldn't make it, but we still had a good group; about 31 folks.

It was about 10 when the last folks left and I locked up.

As folks were leaving, I heard some talking about how they wished this could be more often. Can you imagine? Actually, I can, since I have grown to love and respect so many of the people who come.

See more pictures here. Read more about this service here.
Coming Events
Sunday,1/10, following 10 am service: Common Ministry Bible Study with refreshments.

Wednesday, 1/13: Celebration of Wholeness and Healing with Prayers, Drumming, Laying on of Hands & Reike. Drumming starts at 6:30 pm; service starts at 7 pm.
Sunday, 1/17, Morning Prayer service followed by explaination of Common Miinistry Process, with refreshments.
Wednesday, 1/20: Mission Council meeting at 6 pm.
Sunday, 1/24, following 10 am service: Congregation votes on Common Ministry process.

Sunday, 2/14: Annual Congregational Meeting follows the Sunday service.

Sunday, 2/28: Bishop's Visitation.
See the Grace Calendar Page for the most up-to-date listing of events at Grace. Let us know at webmaster@gracecollegehill.org if we've missed anything.
Grace Supports Interfaith Hospitality Network
Mary McLain reports:
The new beds for the Interfaith Hospitality Net have arrived--16 of them! One of them was purchased wity money raised by Grace Church. Now some gently used twin bed sheets would be nice.

Last night was Grace's night to host. Without any recruiting on my part Grace members volunteered to bring salads, entree, rolls, and dessert and to be dinner hosts and overnight hosts. Isn't that wonderful!

On Saturday, January 16, there will be a household shower for our College Hill IHN at the First Baptist Church (6210 Betts) from 2:30 to 4:30 pm. See below for what's needed.


Read more about IHN coming back to College Hill in a
previous eGraceNotes article
and about Grace's role in supporting IHN in a
Grace Staples article
.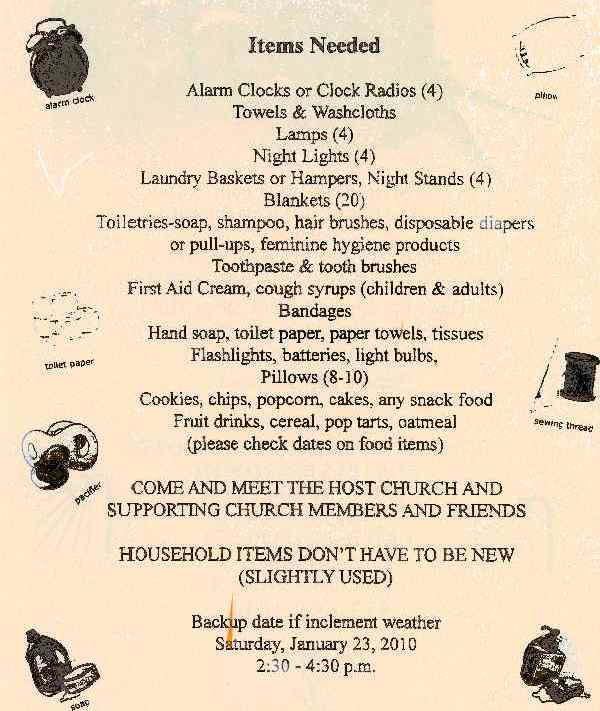 Keep in Your Prayers ...
John (Johnbear) Dunn, Jack Hart, Anjean Poyer, Jim Edgy, John Thayer, Gigi Woode, Toussaint Thrower and family, Ray Harris, Marilyn White, Trevor Van Wagenen, Ed Frye, Jo Carroll, Karen Van Wagenen, Elaine Hughes, Maureen Back, Eloise Pinto, Ruth Bertram, Robert Flemister, Judy & Walter Handy, Shelly Martin, Barbara Todd, Kim Martin, Robb Martin, Dean Bryeans, Chris, Irene Bryeans, Joshua, Caleb, Anne, and Darryl Handy, Marcus Flemister, Kim Herrmann, Al Berghausen, Mary Lou Bellows, Jackie Lewis, Mike and family, Chris and family, Malcolm Daniel, Jean Cavalieri, Shelby Hager and family, Laura Chace, Erik, Alison, Nathanael and Alexis Handy, Bennyce Hamilton, Laura Hall, Bret Barnard and Durand Carroll, Lisa Perry, and Mary Jo.

If you need pastoral care or know of someone who does, please call or email the office (513-541-2415, office@gracecollegehill.org). Please keep us informed about about illness, hospital stays, requests for visits, communion, and prayers for special concerns. Help us to serve you.
Thanks to ...

... Grace Church Choir for some beautiful music for our Christmas services.
... Mother Kimberly Knight, Father John Bower and the Rev. Raymond Betts for officiating at our services.
... Ken Blue for providing music for our services.
... Sexton Bob Jones, for all he does to keep Grace Church looking neat, clean & welcoming. And especially this week, for getting the sidewalks cleared to make it easy for people to come to Grace.
If you know of others who deserve our thanks, do let the office know at 513-541-2415 or
office@gracecollegehill.org
.
Some History About Our Children's Processional Cross
We were pleased to receive this email from Peggy Sagnella of Rhode Island:
I was pleasantly surprised to happen across the
eGraceNotes article
from last year with the picture of your Children's Processional Cross which was made by my grandfather Byron Schonwald. I am the Peggy Ann Apgar referred to on its inscription. I can hardly wait to speak tonight with my mother, Helen Elizabeth Schonwald Apgar, who is the daughter of Ruth and Byron, to see what she remembers about the history of the cross. She is getting on in years, but I am sure she will have an interesting story to tell.
I have fond memories of visiting Grace Church as a child.
Later, she wrote:

Grandpa's hobbies were woodworking and photography. ... I think he must have completed the cross in about 1954 because the inscription doesn't include the name of my youngest cousin who was born in 1955 but it does have the name of my younger brother who was born in 1953. My grandparents moved to Hendersonville, NC when Grandpa retired in the late 1960s.

I hope to make a visit to Cincinnati some day so I can see the cross.

Again, I want you to know what an absolute delight it was to find out about the existence of this piece of our family. Thank you for your restoration work!


What a nice story!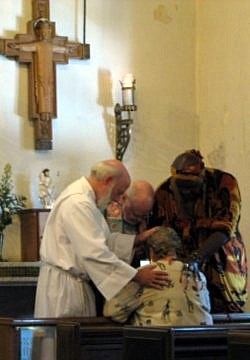 Healing Prayer FAQ Now Online
Grace offers healing prayers for individuals every Sunday during communion in the Peace Chapel. Prayers are again offered at a
Celebration of Wholeness and Healing
the second Wednesday of each month, starting at 7 pm. Have you wondered what this is all about? Or what would happen if you were to participate?
You can get answers to these and other frequently asked questions in a
Healing Prayer FAQ
by Hawley Todd
TSSF
. The article will be published as a pamphlet by
Forward Movement Publications
, but is available to you right now on Grace's web site
here
.
College Hill Ministerium Sponsors Martin Luther King March and Service
Bishop Coming to Confirm and Receive; Classes Available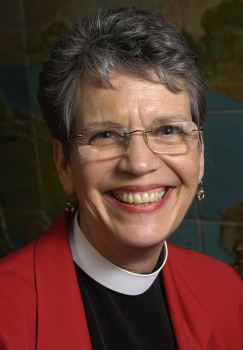 Bishop Bavi Edna "Nedi" Rivera will be visiting Grace Church on Sunday, February 28. Grace will be Bishop Rivera's first visitation in this Diocese. (You can read more about Episcopal Visitations on the Diocesan web site here.)

Bishop Rivera will confirm and receive new members into the Episcopal Church at that time. Confirmation is available to any baptized person who has not already been confirmed in a church in the apostolic succession; reception is available for those who have been confirmed in a church in the apostolic succession (for example, the Roman Catholic Church).

Catechist Hawley Todd has offered to give classes for those desiring to be either confirmed or received. If you are at all interested, contact Hawley at Todd@episcopalhealing.org.

Note that when blessings of same-sex unions commences after this coming Easter, one requirement is that at least one of the partners be a confirmed or received member of the Episcopal Church. Read more about this in a previous eGraceNotes article.
Discussion of Theological Foundations of Common Ministry Scheduled
The diocesan Faith in Life Commission is sponsoring a public discussion about the theological foundations for Common Ministry on Saturday, January 16, from 4 to 6 pm at the Church of the Redeemer, 2944 Erie Avenue, Cincinnati.
Bishop Breidenthal and others will discuss a brief paper by the Rev. Bill Carroll, the chair of the Faith in Life Commission and rector of the Church of the Good Shepherd in Athens. The paper takes its title from the BCP's final clause of the greeting to newly baptized: "And Share With Us in His Eternal Priesthood." Read the paper on Life website, www.fil.diosohio.org,
here
.
Printed Version of eGraceNotes Now Available; Internet Access, Too

eGraceNotes

readers know that this publication contains news of Grace that's not easily available elsewhere. But, hard as it is for some of us to believe, not everyone receives eMail. To improve communications, we are now posting a printed version of

eGraceNotes

on church bulletin boards, and will make copies available along with service bulletins to those who want them.

We understand that this is not a perfect solution, in that it's impossible to follow links to further information without a computer. To alleviate this problem, we are offering use of one of the computers in the Grace office to any member or friend of Grace Church who wants to have internet access and an email address. Contact Ken Lyon (513-542-2941) and he'll set you up and show you how.
Testing for Census Jobs at Recreation Center Next Week

The Census called to let us know that they've scheduled testing for jobs with the 2010 Census for next week right across Belmont at the College Hill Recreation Center. The test will be administered on Wednesday and Thursday at 9:30 am and 12:30 pm. Make a reservation by calling 513-766-3040. Plan to bring two forms of ID (such as a driver's license and a Social Security card).
There are a number of jobs available paying from $8.25 to $19.50 per hour.You can see more information
here
.
Music Live at Lunch at Our Cathedral is Now Weekly