Annual Meeting of Grace Episcopal Church This Sunday
The Annual Meeting of Grace Church will be held this Sunday after the 10 am service. After a pot-luck luncheon (bring a dish to share), the meeting will proceed to:
elect Wardens,Mission Council Members, Delegates and Alternates to Diocesan Convention according to vacancies to be filled, and
to receive reports by Mission Council Officers and Organizations of the Parish, and to conduct other such business that may properly come before the meeting
as specified in the
Grace Church By-laws
.
Junior and Senior Wardens are elected each year to one-year terms.
We understand that the nominating committee intends to nominate David Mukasa to be re-elected as Senior Warden. Junior Warden Carol Lyon will not continue in this position; we understand that Wanda Miller has agreed to be nominated for this position. Nominations from the floor will be accepted.
Mission Council consists of from six to nine members. The normal term is three years and usually, one-third of Mission Council seats are elected each year. However, this year, the only Mission Council members who have not resigned or whose terms to not expire this year are Justine Matovu and Wanda Miller. If Wanda Miller is elected Junior Warden, that leaves from five to eight Mission Council members to be elected at this meeting.
We understand that the Nominating Committee intends to nominate Ken Lyon, Hawley Todd, John Thayer, Lisa Perry, Grace Staples and Roger Perna to Mission Council terms of various lengths. Nominations from the floor will be accepted.
Two Delegates and two Alternate Delegates to Diocesan Convention will also be elected. Your editor does not know of any nominations for these positions. Nominations from the floor will be accepted.
Grace Votes to Join Diocesan Common Ministry Program
In a January 28 letter to Canons Johanssen and Ruttan, Junior Warden Carol Lyon wrote:
Last Sunday at a Parish meeting, Grace church parishioners voted to participate in the pilot program of the Diocese on Common Ministry.
The vote was preceded by two Sundays of information about Common Ministry. On January 10th, Roger Perna conducted a Bible study about Common Ministry (see a summary
here
). This was to help lay the theological foundation for Common Ministry. The following Sunday, the Pilot Program was explained more fully by Roger Perna and Wanda Miller (see a summary
here
). Questions were answered and concerns raised. Last Sunday, any final concerns or questions were discussed and answered before the vote was taken.
Of course, we at Grace church have been talking about Common Ministry with the congregation for almost a year. We previously have written articles for our e-newsletter and the bulletin. Verbal announcements were made at Sunday morning worship. Members attended workshops sponsored by the Diocese. And, we feel like we have been doing a great deal of common ministry.
We look forward to embarking on this venture with the Diocese and other parishes.
To prepare for the first step in the process, several Grace members are attending a Gifts Workshop at Procter Conference Center this weekend. This will prepare them to lead gifts discernment sessions at Grace.
See several articles about Grace's journey to Common Ministry (including the above-mentioned ones)
here
.
Service Cancellation Policy




Grace Church intends for our worship services to be available to our members, friends and visitors whenever humanly possible. The only occasion when we plan to cancel services is when a Level III Snow Emergency is declared, making it illegal to use the streets for anything but emergencies.

We understand that this means that sometimes the phrase "where two or three are gathered together" will take on real meaning. If a priest cannot be present, an appropriate service will be conducted by one of our licensed worship leaders who lives nearby.

If there is an occasion other than a Level III Snow Emergency when services need to be canceled, every attempt will be made to inform members and friends via

eGraceNotes

or telephone.

Coming Events
Sunday, 2/14: Annual Congregational Meeting and pot-luck luncheon follows the 10 am service.
Wednesday, 2/17: Ash Wednesday services at noon with the Rev. Ray Betts and at 7 pm with Fr. Bower. The noon service is a simple one without Eucharist; the evening service includes Eucharist.
Sunday, 2/28: Bishop's Visitation.
Sunday, 3/7: Sharing Sunday.

See the Grace Calendar Page for the most up-to-date listing of events at Grace. The calendar has been reformatted and we are attempting to have every meeting listed to help prevent conflicts. Let us know at webmaster@gracecollegehill.org if we've missed anything.

First Sundays are "Sharing Sundays"




The first Sunday of every month at Grace is "Sharing Sunday," when we contribute non-perishable foods and other items for use at the Christ's Community in College Hill food pantry. At this time, they have a special need for laundry detergent, toilet paper, paper towels, and dish soap.


Ralph and Lisa at Christ's Community in College Hill write:



CCCH has been very busy in the business of feeding the needy. Along with the regular food pantry items, the Freestore foodbank blessed us with some nice free items that we were able to give to our clients last month. There were lots of fresh produce, juices, bread and even meat! We are hopeful that we are able to do the same this month.

The pantry is getting low on canned meats, corn bread and stuffing, jelly, and spaghetti which are some items that are not available at the freestore at this time. Please share this message with your congregations and various committees you might be associated with. We would be forever grateful.



Join the Office Staff




The church office is now being covered on a volunteer basis by Roger Perna, Mary McLain, Florence Poyer, and Hawley Todd. If you are available and willing to serve in this capacity on any particular mornings from 9-12, please contact Roger (rperna@cinci.rr.com). Duties include checking phone and email messages and some other simple tasks as they come up. We have "openings" for either Mondays or Tuesdays.

Episcopal Relief & Development Responds to Devastating Earthquake in Haiti
Episcopal Relief & Development has reached out to its Haitian partners to coordinate a swift response.
To learn the current situation and/or to donate to the Haiti Fund, visit the
Episcopal Relief and Development website
. You can also mail your gift to Episcopal Relief & Development, PO Box 7058, Merrifield, VA 22116-7058. Please put "Haiti Fund" in the memo line of all checks.
Letter from Florida



We received this missive in mid-January from member Grace Staples.



Greetings! Our first week or ten days in southwest Florida were a real killer in more ways than one. The temperature at night on the way down was 18 degrees at our stops in both Georgia and northern Florida. It continued in the 20's and 30's at night after we got here; we were glad to have friends visiting the first week so we could stay inside and talk and talk.

But more importantly, the extended freezing has killed many of the crops, landscaping and also the fish and turtles, etc. It's been a 3-pronged (including tourism) blow to the state's economy and will show up in your grocery bill, for sure.

When the Haitian earthquake hit, it was another blow to this area.

St. Nathaniel's

, where we attend here, has quite a few members from the Caribbean. So many people here have relatives in Haiti. The trickle of news out of Haiti is on the TV 24 hours a day. A second collection was taken on Sunday for Haitian relief through the Episcopal Relief and Development fund (ERD) and the basket was full. Our rector, Patricia Powers, a Cleveland native who was a missionary in Brazil for many years, attested to the fact that all the money goes to the relief projects and is FAST. She said when her mission school burned down, she had a check in five days to begin re-equipping and re-building. The Rev. Pat was recently made a canon in the Diocese of Brazil.

Another thing I love about St. Nathaniel's is that it is a family and informal like Grace Church. Our first Sunday back, the organist was sick and a dear soul had been commandeered into playing the piano. The rector said they were grateful to her and if the music stopped, just keep on singing!

I read that Mary McLain and Belinda Perna did a fantastic job at the first College Hill IHN hosting.

I love you all and think of you often and keep you in my prayers as you are addressing so many important issues.
Thanks to ...


...The EnGuard Flag & Drill Team for providing a hot breakfast after last week's service. The quiche was great!
... The people who cleared the snow off our walks and parking lot twice in the past two weeks. They include Roger & Belinda Perna, David Mukasa, and your editor.
... All the people who contribute to keeping Grace Church alive and well these days.
If you know of others who deserve our thanks, do let the office know at 513-541-2415 or
office@gracecollegehill.org
.
Keep in Your Prayers ...
John (Johnbear) Dunn, Jack Hart, Anjean Poyer, Jim Edgy, John Thayer, Gigi Woode, Toussaint Thrower and family, Ray Harris, Marilyn White, Trevor Van Wagenen, Ed Frye, Jo Carroll, Karen Van Wagenen, Elaine Hughes, Maureen Back, Eloise Pinto, Ruth Bertram, Robert Flemister, Judy & Walter Handy, Shelly Martin, Barbara Todd, Kim Martin, Robb Martin, Dean Bryeans, Chris, Irene Bryeans, Joshua, Caleb, Anne, and Darryl Handy, Marcus Flemister, Kim Herrmann, Al Berghausen, Mary Lou Bellows, Jackie Lewis, Mike and family, Chris and family, Malcolm Daniel, Jean Cavalieri, Shelby Hager and family, Laura Chace, Erik, Alison, Nathanael and Alexis Handy, Bennyce Hamilton, Laura Hall, Bret Barnard and Durand Carroll, Lisa Perry, Mary Jo, Belinda Hoerst, Steve and Tom.

If you need pastoral care or know of someone who does, please call or email the office (513-541-2415, office@gracecollegehill.org). Please keep us informed about about illness, hospital stays, requests for visits, communion, and prayers for special concerns. Help us to serve you.
The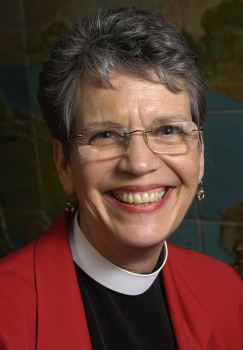 Bishop is Coming! The Bishop is Coming!



Bishop Bishop Nedi Rivera, retired Bishop Suffragan of Olympia and Provisional Bishop of Eastern Oregon, will be visiting Grace Church on Sunday, February 28. Bishop Rivera will be relocating to Cincinnati in February and has graciously agreed to help out while Bishop Price serves as the Provisional Bishop of Pittsburgh. Grace will be Bishop Rivera's first visitation in this Diocese. (You can read more about Episcopal Visitations on the Diocesan web site here.)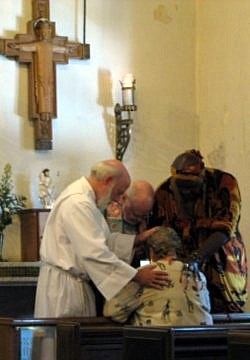 Help for Healers
We have added two articles about Healing Prayer to Grace's online file cabinet.
Caregivers and Healing Prayer
offers help for those who are involved in giving care to others.
Guidelines for Ministers of Healing
is for anyone who is offering healing prayer in public or private settings.
A previously-added article,
Healing Prayer FAQ
, provides some answers to quesitons many people have about healing prayer.
These articles were written by Hawley Todd
TSSF
, who is the Foundation Director and the Formation Director of
Episcopal Healing Ministries
.
Grace offers healing prayers for individuals every Sunday during communion in the Peace Chapel. Prayers are again offered at a
Celebration of Wholeness and Healing
the second Wednesday of each month, starting at 7 pm.
Mission Council Notes



A revised Rental Policy was presented, modified and approved. You can see it here.

A committee has been formed to select a permanent organist. The committee consists of the members of the choir plus Phillis Dietz and Wanda Miller. Supply organists have been scheduled through Easter.

Programmable thermostats are being installed in all rooms and are being set so that rooms are heated for all regularly scheduled meetings.

Minutes of the January 20 meeting may be seen here.

Refresh Your Soul

Conference March 12-13

Episcopal Retirement Homes' (ERH) Parish Health Ministry will hold its 2010

Refresh Your Soul

Conference on Friday, March 12 and Saturday, March 13, at the Crowne Plaza Hotel in Cincinnati (5901 Pfeiffer Road). The keynote speaker will be Harold G. Koenig M.D. presenting this year's theme "Medicine, Religion and Health: Where Science and Spirituality Meet."

Dr. Koenig will provide an expert review of findings regarding the connection between medicine, religion and health, offer a clear analysis of what the evidence means, and discuss practical recommendations for integrating scientific and spiritual care.

This is the eighth Refresh Your Soul Conference sponsored by ERH and it has proven to be a very popular event drawing approximately 200 people from all over the tri-state region. This year's theme is particularly timely as the future of healthcare is a primary concern to all of us and more evidence is surfacing everyday on the role spirituality can play on maintaining and improving both physical and mental health.

The activities begin Friday evening with a dynamic presentation by Rev. Maggie Sebastian titled "Winter Grace". Rev. Sebastian is the Senior Minister at the First Christian Church Disciples of Christ in Wheeling WV and chaplain at Ohio Valley Medical Center and Wheeling Hospital. Rev. Sebastian is a highly respected speaker and journalist in the field of spirituality and aging.

For more information about the conference visit www.ParishHealthMinistry.com or call Ellen Schneider at 800-835-5768 Ext. 4545. Or click here to download conference brochures, bulletin inserts and flyers.

A Quiet Day in Lent

The Affirmative Aging Commission is sponsoring a Quiet Day in Lent on Saint Patrick's Day, March 17, at Procter Camp & Conference Center. The day will begin at 10 am and conclude at 3 pm. Lunch is provided.

Come away for a while and enrich your soul during Lent--a season of introspection and renewal. A quiet day is like a 'mini-retreat,' with a leader offering a series of meditations interspersed with times for quiet solitude and reflection with an opportunity for spiritual direction. What a blessing in this noisy world!

The Affirmative Aging Commission offers this quiet day for everyone, wherever you are on your spiritual journey. There is no fee, but donations will be accepted.

Please RSVP to the Rev. Steve Cuff at scuff@erhinc.com or 513-533-5045.

Queen City Rainbow Band Plays Mardi Gras Blowout
The Queen City Rainbow Band, which practices weekly at Grace, is heading for the Below Zero Lounge on Saturday, February 20th from 8 to 11 pm for a HOT evening of COOL music! Enjoy swing, big band and pop music by the Queen City Rainbow Band's Jazz Ensemble and "Better Than Sax" Quartet + Combo.

A $5 cover will be requested at the door for the evening of music, free beads and door prize ticket. All proceeds support the mission of the QCRB.

Llanfair Hosts World Day of Prayer 2010
Llanfair Retirement Community
invites the public to its observation of the
World Day of Prayer
on March 5.
Llanfair's new Margaret Jean Wells Chapel is one of six official Cincinnati locations celebrating the worldwide, ecumenical observence. This year's focus is Cameroon.
The women of Cameroon have written the service around the theme, "Let everything that has breath praise God." The worship service will emphasize the importance that the people of Cameroon place on music and celebration in their praise to God.
Registration begins at 12:30 pm, with the program beginning at 1 pm. For information call Chaplain Jan Ledford at (513) 591-4526.