The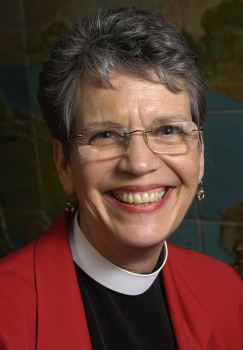 Bishop is Coming! The Bishop is Coming!



Bishop Bavi Edna (Nedi) Rivera, retired Bishop Suffragan of Olympia and Provisional Bishop of Eastern Oregon, will be visiting Grace Church

this Sunday

, February 28. She has graciously agreed to help out in our Diocese while Bishop Price serves as the Provisional Bishop of Pittsburgh. (You can read more about Episcopal Visitations on the Diocesan web site here.)

Bishop Rivera is relocating to Cincinnati (to Northside, we understand) this week. Grace will be Bishop Rivera's first visitation in this Diocese.

A reception for Bishop Rivera will be held in the Small Assembly Room following the service.

Come Sunday and bring friends. Let's provide a nice welcome for Bishop Rivera.
Annual Meeting Elects Wardens, Mission Council Members, Delegates
At February 14th Annual Meeting, members of Grace Church elected the the following: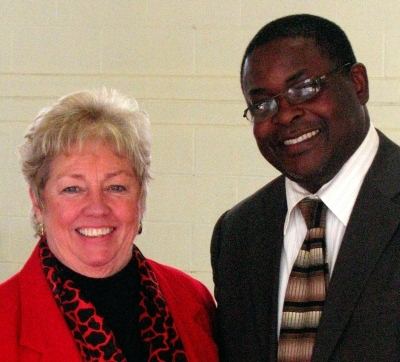 Wardens (pictured right):
Senior Warden: David Mukasa
Junior Warden: Wanda Miller.
Mission Council:
Ken Lyon (unexpired 2-yr. term)
Hawley Todd (unexpired 1-yr. term)
John Thayer (3-yr. term)
Lisa Perry (3-yr. term)
Grace Staples (3-yr. term)
Roger Perna (3-yr. term)
Convention Delegation Alternates:
Virginia Chapel
Hawley Todd
See all current officers and other Grace Church dignitaries
here
.
Senior Warden Thanks God and Grace
In his Annual Report for 2009, Senior Warden David Mukasa presented an inspiring picture of Grace Church. His report is repeated here in its entirety. (You can read meeting minutes and all reports submitted at the Annual Meeting
here
.)
The year 2009 has been both challenging and trying in many aspects for Grace church. We have weathered the loss of a vicar, organist, parish administrator and some members. We have suffered such losses that not many congregations of our size would most likely survive. But the Lord continues to work among us, taking us to new levels of understanding of his love and ministry.

The uniqueness of our congregation separates us from many churches, big and small. I have witnessed our parish office function almost flawlessly with volunteers. There is a genuine spirit of togetherness, with failure not being an option. This makes me realize how much God loves us and how willing he is not to only bless us but to work with and amongst us; indeed we are a blessed bunch. We continue to flourish in the various ministries we are involved in. We're blessed with selfless individuals who are willing to take on different responsibilities/ministries and in the end make us all shine and proud as a congregation.

Make no mistake about it; we're still struggling to make ends meet. Our treasurer will report on our financial status, it is still worrisome. The decline in membership does not help any, but we have to stay optimistic and work hard collectively on recruiting new members. We're hopeful this year's heating bill will be better than in years past. Our building is still our biggest liability but yet our best and biggest asset.

Our struggle continues with the sure knowledge that we cannot allow ourselves to fail. This is my eleventh year in this church and during all those years past, it has been a struggle. We have shared one challenge after another, mainly financial, but I have continuously witnessed this congregation triumph at every turn. I believe with trust, faith and confidence in the Lord and each other, we will survive the turbulent times as has been in the past. Our faith will keep us moving, driving us forward.

To move forward we have to embrace change, as College Hill and the rest of the world change so must we. Change might not be the most pleasant, but it's inevitable. As we transform we will realize our potential to be better, capable of doing much more for the Lord. I think in that growth will start to emerge. We need to continue to pray for direction in those things that God calls us to do.

We thank the diocese for its continued support for our ministry. I thank the membership without whom we wouldn't be here today. I thank all the volunteers who have made it possible for the church office to function. I thank all who are involved in the different ministries especially the healing service. I thank all who have dedicated there time, sweat and finances to beautify our building. I thank all the committees, especially the heads, for their dedication to do the Lord's work. I thank Mission Council for their dedication; but most of all I thank God who has continually blessed us and who has allowed us to minister in and be a part of the College Hill area.

Rest in peace for the members called to join our Lord in this past year; you are greatly missed by all.

Our struggle continues and our resolve strengthens.

At the Annual Meeting, Senior Warden Mukasa recognized the following parishioners for their service and offered special thanks:

Carol Lyon, for agreeing to fill the unexpired term of Junior Warden a year ago;

Roger Perna, for his service as Treasurer and whatever else is ever needed;

Ken Lyon, for his continuing work on our building--especially for brightening the sanctuary;

Wanda Miller, for accepting the nomination as Junior Warden;

Hawley Todd, for continuing the Healing Service.
David also expressed his appreciation for all we accomplish at Grace, despite our size. He thanked the "new" Mission Council for its commitment and noted that as Senior Warden, he depends upon the congregation for advice and guidance.
Grace Conference and Banquet Center Being Developed

At February's Meeting, Mission Council empowered a Grace Conference Center Committee to proceed to develop a Grace Conference and Banquet Center at Grace, utilizing unused space in our facility, starting with the Great Hall.

The committee consists of J. White, chair, and Chuck Bowles, David Mukasa and Tony Denbo.

Many thanks are due to Tony for developing this idea into an attractive proposal that may well significantly improve our service to the community while creating some not insignificant income.
Coming Events
Every weekday during Lent: Morning Prayer at noon in the Memorial Chapel.
Thursday, 2/25: Parolee Work Day at Grace, 9am to 1pm

Sunday, 2/28: Bishop's Visitation

Sunday, 3/7: Sharing Sunday.
Wednesday, 3/10: Celebration of Wholeness and Healing, starting at 7pm.

Wednesday, 3/17: Mission Council at 6pm.

See the Grace Calendar Page for more information ane more events.

We intend to list every event at Grace to facilitate scheduling. If you know of any meeting that's not listed, please let us know at webmaster@gracecollegehill.org.
Keep in Your Prayers ...
Jim Edgy, Mary Ratliff, John (Johnbear) Dunn, Jack Hart, Anjean Poyer, John Thayer, Gigi Woode, Toussaint Thrower and family, Ray Harris, Marilyn White, Trevor Van Wagenen, Ed Frye, Jo Carroll, Karen Van Wagenen, Elaine Hughes, Maureen Back, Eloise Pinto, Ruth Bertram, Robert Flemister, Judy & Walter Handy, Shelly Martin, Barbara Todd, Kim Martin, Robb Martin, Dean Bryeans, Chris, Irene Bryeans, Joshua, Caleb, Anne, and Darryl Handy, Marcus Flemister, Kim Herrmann, Al Berghausen, Mary Lou Bellows, Jackie Lewis, Mike and family, Chris and family, Malcolm Daniel, Jean Cavalieri, Shelby Hager and family, Laura Chace, Erik, Alison, Nathanael and Alexis Handy, Mary Jo, Belinda Hoerst, Steve and Tom.

If you need pastoral care or know of someone who does, please call or email the office (513-541-2415, office@gracecollegehill.org). Please keep us informed about about illness, hospital stays, requests for visits, communion, and prayers for special concerns. Help us to serve you.
Daily Morning Prayer at Grace

Need a little break in a hectic day? Some of us are saying Morning Prayer every weekday at noon in the Memorial Chapel. This service takes about a half hour. Join us!

The Memorial Chapel is on the ground floor just inside the lower Belmont entrance.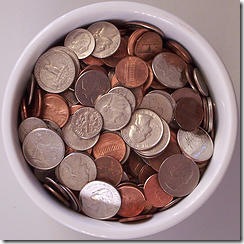 Feed Yourself--Or Feed Someone Else
Sharing Sunday comes up first Sunday every month. The next Sharing Sunday is March 7th. That's the Sunday when you are invited to bring non-perishibles or money to help stock the Christ's Community in College Hill Food Pantry.
Are you finding it hard to break loose of some money for this worthy cause? If so, J. White has come up with an interesting way to make it easy to contribute your "extra" money on Sharing Sunday. Here's the deal:
Put a container on your dresser.
At the end of each day, put your loose change in the container.
At the end of the month, you decide:
If need it, keep the money and feed yourself.
Otherwise, bring the money on Sharing Sunday and let someone use it to shop for things for the Food Pantry.
Simple, isn't it? How about giving it a try this Lent?
Celebration of Wholeness and Healing Returns March 9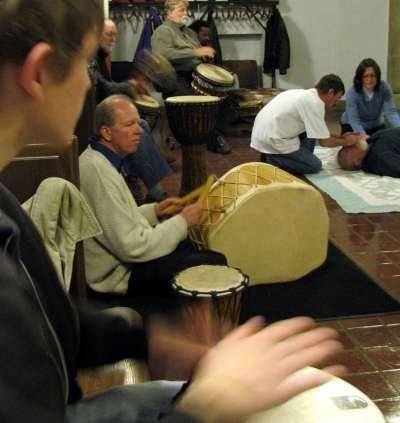 After taking a snow day in February, the Healing Service aka
Celebration of Wholeness and Healing
returns on Wednesday, March 9. Drumming begins at 6:30 pm, the service proper starts at 7 pm. Read more about this service
here
.
Here are Hawley Todd's comments following the January service:
The first folks arrived last night about 6:15 and I walked out to my car with the last folks to leave at 10:17. It was a long night that seemed to be very short.

My highlight was that our dear friend from Florida, Vicar Ernestein, showed up late in the evening. J and others could tell you much more about how she is doing. It was so good to see her.

I am unsure of numbers since the group is very fluid with folks coming and going. I know we had at least 40 but it could have been a few more.

The modalities of healing and the number of people offering prayer continues to grow as well. At one point last night, there were six people praying for one person and four other people praying for another person with two additional people obviously praying from a few feet back. It was great to see! I am sure that many others were praying as well. And that does not even count all the drummers.

Several of my friends who come from the east side are healing touch practitioners. I am glad that modality has been added to the flow of the evening. When I talked with them after the service, they were impressed with how present God was at the service.

I had a very profound sense of the presence of Jesus throughout the service. Again thank you all for empowering this service to take place!
Your Ideas Needed on Grace's Music Program
John Thayer makes the point that a church's music program consists of more than providing organ accompaniment at Sunday services. John is putting together a rather complete description of what a comprehensive music program at Grace might consist of.
He'd like your thoughts on what you'd like to see in the way of music at Grace--in or out of worship. Let him know in person or at
thayerj@ucmail.uc.edu
.
Join the Office Staff

The church office is now being covered on a volunteer basis by Roger Perna, Mary McLain, Florence Poyer, and Hawley Todd. If you are available and willing to serve in this capacity on any particular mornings from 9-12, please contact Roger (rperna@cinci.rr.com). Duties include checking phone and email messages and some other simple tasks as they come up. We have "openings" for either Mondays or Tuesdays.
Building Bridges on the Avenue

Seeks to Help College Hill Flourish

Building Bridges on the Avenue is a series of meetings that have occurred in the past and are continuing this year. They are sponsored by the College Hill Ministerium, which is made up of all of the area churches. The purpose of these meetings is to encourage dialogue among citizens to pursue together healthy, working relationships in order to achieve a flourishing climate in the College Hill area and to help College Hill continue to be a vibrant neighborhood.

The next

Building Bridges

meeting will be on Monday, March 8 at 7 pm at the College Hill Recreation Center, just across Belmont Avenue from Grace Church.

Please make an effort to attend this meeting. Working together, we all can keep communications lines open for the benefit of everyone in the College Hill area.
Leadership Seminar at College Hill Presbyterian Church Saturday



Two College Hill Presbyterian Church members got so excited about the content at the last Willow Creek Association Leadership Summit that they each bought the whole set of conference DVDs, hoping to show them to lots of people.

If you ever have to lead anything (a church, a business, a group of rowdy kids), or if you ever want to change anything (your church, your business, those rowdy kids, maybe even yourself), you will probably enjoy the seminar planned at CHPC for Saturday, February 27, from 8:00 am to 12:30 pm, when Steve McLemore and Colleen Scheid show four keynote presentations from the summit, and lead follow-up discussions.

Read details here.
The Rev. Dr. Walter Brueggemann Presents Lenten Programs at Redeemer


Widely acclaimed writer, lecturer, and preacher Walter Brueggeman is the presenter at
Church of the Redeemer
's Lenten programs on Wednesday evenings. What an opportunity to hear one of the world's best Old Testament Scholars!
See details
here
.
Diocese Youth Program News
The Diocese's Youth Program has a
new website
, and is announcing a lively
summer camp schedule
for young people of all ages.
Interesting things are happening.
M
usic at Our Cathedral
Christ Church Cathedral will be hosting three significant choral programs in March, in addition to its usual array of offerings. Both the Cincinnati Boychoir and the Harvard Glee Club will appear in concert, and the men of the Cathedral Choir will perform Thomas Tallis' moving Lamentations of Jeremiah during
Music Live at Lunch
during Holy Week.
See more information about the Boychoir and Glee Club concerts
here
.
Music Live at Lunch
provides music at 12:10 pm every Tuesday. You can bring your lunch or purchase one for $5. See the schedule
here
.
Choral Evensong is sung the first Sunday of the month at 5pm. See the schedule
here
.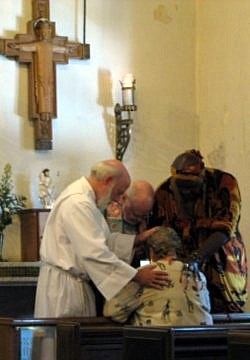 Help for Healers
We have added two articles about Healing Prayer to Grace's online file cabinet.
Caregivers and Healing Prayer
offers help for those who are involved in giving care to others.
Guidelines for Ministers of Healing
is for anyone who is offering healing prayer in public or private settings.
A previously-added article,
Healing Prayer FAQ
, provides some answers to quesitons many people have about healing prayer.
These articles were written by Hawley Todd
TSSF
, who is the Foundation Director and the Formation Director of
Episcopal Healing Ministries
.
Grace offers healing prayers for individuals every Sunday during communion in the Peace Chapel. Prayers are again offered at a
Celebration of Wholeness and Healing
the second Wednesday of each month, starting at 7 pm.
Refresh Your Soul

Conference March 12-13

Episcopal Retirement Homes' (ERH) Parish Health Ministry will hold its 2010

Refresh Your Soul

Conference on Friday, March 12 and Saturday, March 13, at the Crowne Plaza Hotel in Cincinnati (5901 Pfeiffer Road). The keynote speaker will be Harold G. Koenig M.D. presenting this year's theme "Medicine, Religion and Health: Where Science and Spirituality Meet."

Dr. Koenig will provide an expert review of findings regarding the connection between medicine, religion and health, offer a clear analysis of what the evidence means, and discuss practical recommendations for integrating scientific and spiritual care.

This is the eighth Refresh Your Soul Conference sponsored by ERH and it has proven to be a very popular event drawing approximately 200 people from all over the tri-state region. This year's theme is particularly timely as the future of healthcare is a primary concern to all of us and more evidence is surfacing everyday on the role spirituality can play on maintaining and improving both physical and mental health.

The activities begin Friday evening with a dynamic presentation by Rev. Maggie Sebastian titled "Winter Grace". Rev. Sebastian is the Senior Minister at the First Christian Church Disciples of Christ in Wheeling WV and chaplain at Ohio Valley Medical Center and Wheeling Hospital. Rev. Sebastian is a highly respected speaker and journalist in the field of spirituality and aging.

For more information about the conference visit www.ParishHealthMinistry.com or call Ellen Schneider at 800-835-5768 Ext. 4545. Or click here to download conference brochures, bulletin inserts and flyers.
Need a Couch?

Free to a good home: one couch currently located in the Small Assembly Room. Want it? Take it!