Bishop Rivera Visits Grace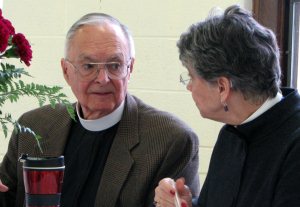 Bishop Bavi Edna (Nedi) Rivera, retired Bishop Suffragan of Olympia and Provisional Bishop of Eastern Oregon, and Deacon Kenneth Clark, on loan to Grace from St. James for the morning, came to Grace Church Sunday, February 28, to celebrate Eucharist and to be honored at a reception following the service. The bishop is now living in Northside, and the wish was expressed that she might find it convenient to revisit Grace in the future.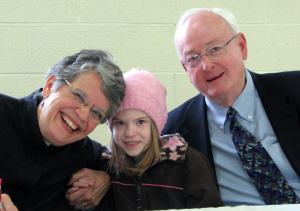 Bishop Rivera was accompanied by her husband, the Rev. Bob Moore and her granddaughter, Katherine.

Harpist Tina Larkin provided special service music.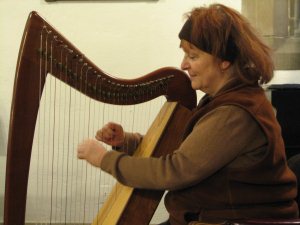 At the reception, Chuck Bowles expressed his pleasure at the bishop's presence and message, saying he hadn't been so happy with the church for (uh) a long time.

You can see more pictures here.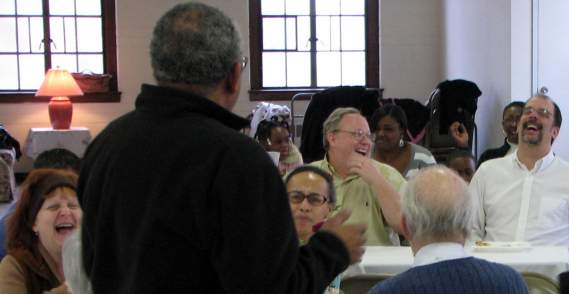 Gifts Assessment is the Next Step on the Way to Common Ministry
In our journey toward Common Ministry, our first steps will be to assess our gifts as individuals and then put those together to create a picture of what gifts we have as a whole parish. After that process, we will match our parish gifts with the community needs that we identify as being most important to us, and also consider which of these needs we are best equipped to address.
These important steps will be accomplished through
Three Bible Studies and
Three Gift Assessment Workshops.
We have already had our first Bible study. On January 10th, we sat down after church and discussed Ephesians 4:1-16, commonly known as "Unity in the Body of Christ." ("There is one body and one Spirit,"etc.) See here for a summary of that study.
Our next two Bible studies will also be after church:
On March 14th we will study and reflect on John15:9-16 ("As the Father has loved me, so I have loved you ..."),
and on March 28th we will study and reflect on 1 Corinthians12:4-27 (". . . there are varieties of gifts, but the same Spirit.").
Our three Gifts Assessments Workshops will also take place on Sundays after church, but they will be repeated on the following Thursday at 6:30 PM for those who are unable to attend the Sunday workshop.
Our first Workshop will be on Sunday, April 11th and repeated on Thursday, April 15th. The title of this workshop is "People Who Inspired Me." You will share with others people in your life that have influenced you and helped you develop the values that you have. This process will help us realize why we are the people that we are today and why we believe what we believe.
The next Workshop will be on Sunday, April 25th and repeated on Thursday, April 29th. The title of this workshop is "Identifying Our Gifts." We will meet in small groups and talk about accomplishments in our life that we value or feel good about. By listening, others in your group will be able to help you assess your gifts as demonstrated by your stories.
The third Workshop will be on Sunday, May 16th and repeated on Thursday, May 20th. This workshop is called "What Tugs at My Heart?" You will fill out a survey about what community and world issues are most important to you, and we will work together to determine which of these issues are most important to Grace Church as a parish.
These steps will get us started on developing goals and missions for Grace Church and give us a foundation to create the ministries that we want to take out to our community. Common Ministry is a way in which all of us will be able to honor our Baptismal Covenant to "proclaim, by word and example, the Good News of God in Christ" and to "seek and serve Christ in all persons, loving your neighbor as yourself." (Book of Common Prayer, page 305)
The Gifts Workshops are being set up on Sundays after church and repeated on the following Thursdays so that as many parishioners as possible can participate in this process. This is the only way we will be able to create goals and missions that truly reflect the nature of the entire parish. Please make every effort to attend all three of these workshops, whether it be on the Sunday or the following Thursday. Together, and with God's guidance, we will be able to develop Grace into the strong parish that it can be. We can be a real force for God's work in greater Cincinnati. Please come along with us on this exciting journey.
Sincerely, your Common Ministry Committee:
Carol Lyon, Ken Lyon, Roger Perna, Wanda Miller, Hawley Todd, Justine Matovu
Read more about Grace Church's involvement in Common Ministry here.
Keep in Your Prayers ...
Seth Staples, Jim Edgy, Phillis Dietz, Pete Staples, John (Johnbear) Dunn, Jack Hart, Anjean Poyer, John Thayer, Gigi Woode, Toussaint Thrower and family, Ray Harris, Marilyn White, Trevor Van Wagenen, Ed Frye, Jo Carroll, Karen Van Wagenen, Elaine Hughes, Maureen Back, Eloise Pinto, Ruth Bertram, Robert Flemister, Judy & Walter Handy, Shelly Martin, Barbara Todd, Kim Martin, Robb Martin, Dean Bryeans, Chris, Irene Bryeans, Joshua, Caleb, Anne, and Darryl Handy, Marcus Flemister, Kim Herrmann, Al Berghausen, Mary Lou Bellows, Jackie Lewis, Mike and family, Chris and family, Malcolm Daniel, Jean Cavalieri, Shelby Hager and family, Laura Chace, Erik, Alison, Nathanael and Alexis Handy, Mary Jo, Belinda Hoerst, Steve and Tom, Mary Ratliff.

If you need pastoral care or know of someone who does, please call or email the office (513-541-2415, office@gracecollegehill.org). Please keep us informed about about illness, hospital stays, requests for visits, communion, and prayers for special concerns. Help us to serve you.
Celebration of Wholeness and Healing Returns Today--March 10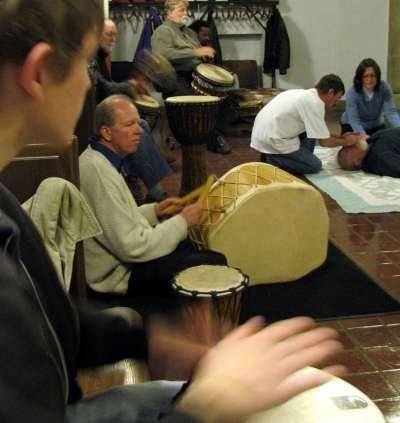 The Healing Service aka
Celebration of Wholeness and Healing
returns today, Wednesday, March 10. Drumming begins at 6:30 pm, the service proper starts at 7 pm. Read more about this service
here
.
Here are Hawley Todd's comments following the January service:
The first folks arrived last night about 6:15 and I walked out to my car with the last folks to leave at 10:17. It was a long night that seemed to be very short.

My highlight was that our dear friend from Florida, Vicar Ernestein, showed up late in the evening. J and others could tell you much more about how she is doing. It was so good to see her.

I am unsure of numbers since the group is very fluid with folks coming and going. I know we had at least 40 but it could have been a few more.

The modalities of healing and the number of people offering prayer continues to grow as well. At one point last night, there were six people praying for one person and four other people praying for another person with two additional people obviously praying from a few feet back. It was great to see! I am sure that many others were praying as well. And that does not even count all the drummers.

Several of my friends who come from the east side are healing touch practitioners. I am glad that modality has been added to the flow of the evening. When I talked with them after the service, they were impressed with how present God was at the service.

I had a very profound sense of the presence of Jesus throughout the service. Again thank you all for empowering this service to take place!
Thanks to ...
... Tony Denbo, Jeff Goddard and the EnGuard Color Guard & Dance team for signing up to provide refreshments after service the first Sunday of every month.
... Mother Kimberly Knight, Father John Bower and the Rev. Raymond Betts for officiating at our services.
If you know of others who deserve our thanks, do let the office know at 513-541-2415 or office@gracecollegehill.org.
Coming Events
Every weekday during Lent: Morning Prayer at noon in the Memorial Chapel.
Wednesday, 3/10: Celebration of Wholeness and Healing, starting at 7pm.
Sunday, 3/14: Bible Study/Reflection following Sunday worship. Refreshments.

Wednesday, 3/17: Mission Council at 6pm.
Sunday, 3/28: Bible Study/Reflection following Sunday worship. Refreshments.

See the Grace Calendar Page for more information ane more events.

We try to list every event at Grace in the online calendar to facilitate scheduling. If you know of any meeting that's not listed, please let us know at webmaster@gracecollegehill.org.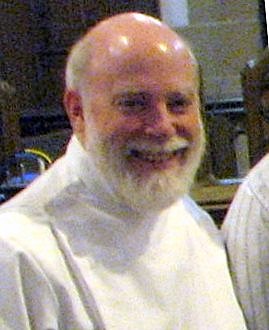 Congratulations!
Congratulations to Hawley Todd, who has taken over the position of coordinating Education for Ministry for the Diocese. Hawley has been an EfM Mentor for what seems like more years than we have fingers and toes, and is well-equipped to get the good word out about this important and very rewarding program.
Hawley leads two EfM groups at Grace Church that draw people from all over the area. Read more about EfM
here
.
Ongoing Charitable Collections



The Outreach Committee in collaboration with Matthew 25 Ministries and the Community of Christ the Redeemer at North Central Correctional Institution are collecting:
old medicine bottles,

eyeglasses,

religious materials (e.g. Forward Day by Day, Bibles, Bible study materials) and

writing & typing paper.

Just bring them to church and the Outreach committee will deliver them.
Opportunities to Contribute



Flowers.

Those wishing to give flowers may sign up on the sheet on the piano in the church. The donation is $35.00 per week to assist Grace Church in its work. The signup sheet for Easter flowers is out on the piano as well.



Coffee Hour Host/Hostess

. The sign up sheet to host coffee hour refreshments following Sunday services is on the piano. If you are physically unable to host but would be willing to provide items for the coffee hour, let the office know.
Mission Council Minutes Posted Online in the Grace File Cabinet
Wondering what's going on behind the scenes? You can learn more from the Mission Council Mintues, which are
posted online
, as usual.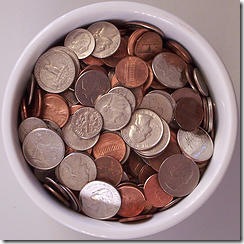 Feed Yourself--Or Feed Someone Else
Sharing Sunday comes up first Sunday every month. The next Sharing Sunday is March 7th. That's the Sunday when you are invited to bring non-perishibles or money to help stock the Christ's Community in College Hill Food Pantry.
Are you finding it hard to break loose of some money for this worthy cause? If so, J. White has come up with an interesting way to make it easy to contribute your "extra" money on Sharing Sunday. Here's the deal:
Put a container on your dresser.
At the end of each day, put your loose change in the container.
At the end of the month, you decide:
If need it, keep the money and feed yourself.
Otherwise, bring the money on Sharing Sunday and let someone use it to shop for things for the Food Pantry.
Simple, isn't it? How about giving it a try this Lent?