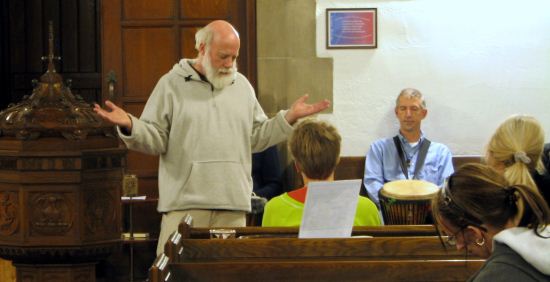 Time again for another evening of love, drumming, and wholeness! It's tonight (Wednesday) at Grace in College Hill. Please join us! Come whenever you are able and stay as long as the spirit moves you.
Drumming starts around 6:30 pm. The liturgy is at 7:00.
Dress for your comfort! Bring a drum or other instrument and help us worship and heal!
Even if you are unable to attend, keep us all in your prayers. We will be praying for world peace and harmony!
Please pray that the Holy Spirit will touch and bless everyone who comes.
And last but not least, there will be another healing service at Grace this coming Sunday (February 13) at 10 am. While we will not have drums and quilts in the back of the church, I am sure the angels and all the hosts of heaven will be there on Sunday just as they are at our Wednesday drumming/healing services!!!
Thanks to Hawley Todd for this article.
See more pictures of previous services
here
.