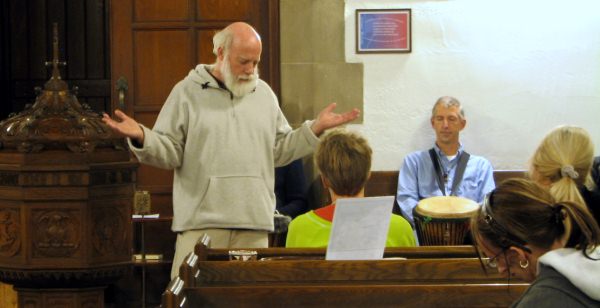 Hawley Todd writes:
Please join us tonight at Grace Church for another blessed evening of love, drumming, and healing!
Drumming starts around 6:30 pm. There is a short liturgy around 7 pm and then everyone offers their gifts to touch and bless one another. All are welcome!
Please join us whenever you can. People come and go as their schedules allow throughout the evening. We typically end a little after 10 pm.
Bring your drums and/or any instruments you desire. Come and join us!
Blessings and love fill your heart and mind! See you tonight!!!
You can get a pretty good idea of what this service is like from the photos here. Pictured above are Hawley Todd, TSSF, leading prayer, and Bob Laake of Drum for Healing, who provides leadership for the healing drumming. Several other healers will be present as well.